1000 Heroz



Developer

RedLynx

Platform

Release date

June 8, 2011

Genre

puzzle-platform game

Mode

Single-player
1000 Heroz is a puzzle-platform game developed and self-published by RedLynx. It was released June 8, 2011 for iOS devices. It is unique in that a new level has been introduced each day since its release, and will continue to be until 1,000 days are reached. Online leaderboards for the newest level are open for 24 hours, after which time they are closed.
The game received generally positive reviews. Aggregate website Metacritic reports an aggregate score of 74/100, with the majority of individual review scores a 70/100 ratio or higher. Critics praised the concept of a new playable level each day, citing that it inspired competition within the game.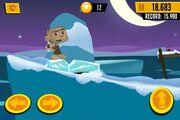 1000 Heroz is a physics-based puzzle-platform game. The goal in each level is to reach the finish line as quickly as possible; faster times yield better rewards. The game's physics are exaggerated, creating a feeling of lowered gravity. It is unique in that every day since its release to 1,000 days since release a new hero and level are introduced. Each previous level and hero remain playable after their initial introduction. Levels are designed to be short and can take less than 30 seconds to complete. Custom Leagues are provided to allow players to create a network of friends to compete with. Leaderboards are included to encourage competition both between friends and worldwide.