Cut the Rope

App logo

Developer

Platforms

iOS, Android, Symbian, BlackBerry PlayBook, DSiWare, Mac OS X, World Wide Web (more specifically HTML5 and JavaScript) Windows 8, Google Chrome

Release date

October 4, 2010

Genre

Puzzle

Mode

Single-player

Ratings

ACB: G

ESRB: E

PEGI: 3
Cut the Rope: Experiments



Developer

ZeptoLab

Release date

August 4, 2011

Genre

Puzzle

Mode

Single-player

Ratings

Apple: 4+
Cut the Rope is a physics-based puzzle game for handheld gaming platforms. It was developed in 2010 by Russian developers ZeptoLab and is published by Chillingo. In 2011, it was followed by a sequel, Cut the Rope: Experiments. Cut the Rope has been downloaded more than 100 million times since its release..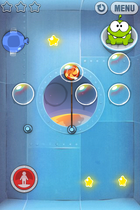 The object of each level is to maneuver a piece of candy into the mouth of a green cartoon monster called "Om Nom". The candy hangs by one or several of the titular ropes which the player can cut with a swipe of their finger, and can also be manipulated through other objects including bellows and floating bubbles. Each level pack introduces new objects.
The other objectives are to collect up to three stars per level by touching them with the candy, to keep the candy within the box, and to avoid spike and electricity hazards. Levels are scored with zero to three stars, according to how many the player picked up, and also with a point score depending on the number of stars collected and the amount of time taken to complete the level.
Cut the RopeEdit
On 4 October 2010 "Cut the Rope" for iOS was made available through the App Store. A native (HD) version for the iPad was released on 6 October 2010. This was followed by the release of a free version with fewer levels for each device on the next day, called Cut the Rope Lite and Cut the Rope HD Lite respectively.
Nine days after its release, the game had been purchased one million times and risen to the top of the App Store's charts. According to Chillingo, this made it the fastest-selling iOS game to reach that number of sales. As of December 2010, it had been purchased three million times.
The Android version was released in June 2011.
The DSiWare version was released in September 2011 for Europe and November 2011 for North America on Nintendo DSi and Nintendo 3DS systems.
In January 2012, a limited version of the game was published as a browser game for HTML5 browsers.
In February 2012, the BlackBerry PlayBook version was released.
The game is available on the Windows 8 Consumer Preview at the Windows Store for free download.
Cut the Rope: ExperimentsEdit
On 4 August 2011, ZeptoLab published Cut the Rope: Experiments, the sequel to Cut the Rope. While its gameplay and presentation closely matches that of Cut the Rope, it introduces some new gameplay elements.
Level packs
Edit
Both Cut the Rope and its sequel, Experiments, group content in "boxes" or "experiments" containing 25 levels each. Several new level packs containing additional game mechanics have been added through updates. In December 2010, the "Holiday Gift Box" was released as a separate, free game entitled Cut The Rope: Holiday Gift.