Minigore

Minigore cover art

Developer

Mountain Sheep

Platforms

iOS, Playstation 3

Release date

July 30, 2009

Genre

Survival

Mode

Single-player

Ratings

Apple: 9+
Minigore is a 2009 survival horror game for the iOS, developed by Mountain Sheep and published by Chillingo. The lead character, John Gore, is voiced by Arin Hanson. The game has also been released for PSP Go, under the "Minis" label of the PlayStation Store.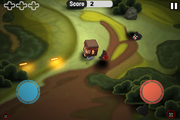 Players control the main character John Gore in a world called "Hardland." They must defend John from creatures called furries by shooting them using John's weapons. A cloverleaf will generate randomly after furry kills. Collecting three clovers will turn John into a minotaur, giving him invincibility and allowing him to stomp on enemies for around 15-20 seconds. The player has three lives and racks up points for each furry killed. There are also OpenFeint and Game Center leaderboards and achievements.
Update 3 added more playable characters, such as Enviro-Bear, Jerry Gore, Evan Hsu, Xmas Gore, Sensei Evan, Kid Gore and Santa. It also introduced a grenade launcher and upgradeable weapons, a day and night cycle, and a snowy forest level.

Update 3.5 featured Gangster Gore, Lizzy, Ninja Man and Zombieville Guy, a Kid Gore redux. Charactrs could now also wield dual weapons and support was added for OpenFeint 2.4.

Update 3.6 included the character Hook Champ and also added special traits for Gangster Gore, Sensei Evan and Sway's Ninja.

Update 3.7 included the character Predator Furry, Zombie Gore, and Easter Bunny. It also introduced graphical improvements to the map screen.

Update 3.8 included new graphics for Apple's new retina display, featured in the iPhone 4 and fourth-generation iPod Touch. It also featured weapon recoil effects and options to increase or decrease performance.

Update 3.9 included new furrys called fur-bombs, a new hidden difficulty called Inferno, and auto-aim.
Update 4 featured multiplayer, another character pack, changes to the encyclopedia, and some graphics upgrades.
Update 5 featured three new encyclopedia pages and several new characters, including the Penguin and the Penguin Mob, along with some bug fixes.
Update 6 featured three new characters; Bike Baron, Batman, Superman, Spiderman, and the Trololo Guy.
Appearances in other games
Edit
John Gore has made several appearances in other games:
He is one of the bosses in the iOS version of Death Rally.
He appears in Zen Bound 2, an iOS game available through the Apple App Store, and for PC and Macintosh through Steam.