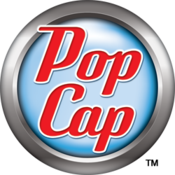 PopCap Games is a game developer, it is a subsidiary of Electronic Arts. It was founded by John Vechey, Brian Fiete and Jason Kapalka, and currently employs about 400 people. Most of Popcap's games can be played free in a limited form, with the full version available for a fee.
PopCap's flagship title, Bejeweled has sold more than 50 million units across all major platforms and continues to sell another copy of itself every 4.3 seconds. PopCap games are available for Web, PC and Mac, Nintendo DS, Nintendo DSi, Wii, Xbox, Xbox 360, PlayStation 3, Zeebo, Cell Phones, PDAs, iPod Classic, iOS, Android, BlackBerry Tablet OS, Windows Phone, and other mobile devices.
PopCap games Framework
Edit
PopCap Games Framework (official name was SexyApp Framework) is the name of a computer game development kit for C++, released by PopCap Games. It is designed to let programmers easily and quickly create "PopCap-style" games, and is part of their developer program that encourages game creators to distribute their finished games through PopCap Games. The PopCap Games Framework is licensed under a proprietary free license. The PopCap framework powers casual games such as PopCap's own Bejeweled and Sandlot Games' Cake Mania. The framework only officially runs on the Windows platform, although some games have been ported to the Mac using proprietary conversions of the framework. A community-supported effort is under way for porting the framework to Linux as well. One such effort is TuxCap, which additionally makes use of PyCap, wrapping the SexyApp API in a Python layer. A community forum for the PopCap framework has helped developers and improved on the last official release of the framework.
PopCap have finished their developer program (as of 27 July 2009). Community efforts to modernise the framework have culminated in SexyKanji, which wraps the SexyApp API around the Gogii Games Engine (formerly the Kanji Engine), introducing support for new features and many different platforms, including Android, and iOS (iPhone/iPad). However, the Gogii Games Engine is a commercial engine, so developers must pay to acquire a license to use it (unlike the original PopCap framework).
Click here for list of games List of PopCap games