Tetris

Tetris application icon

Developer

Electronic Arts

Platforms

Release date

July 9, 2008

Genre

Puzzle

Mode

Single-player

Ratings

Apple: 4+
Tetris is a puzzle video game developed by the EA Montreal development studio and published by Electronic Arts for the iOS operating system. It was released on July 9, 2008. The game featured gameplay like other Tetris titles, but with a new soundtrack.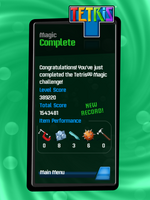 Gameplay was nearly identical in gameplay to other Tetris titles, but with a new soundtrack. Players also had the ability to create their own soundtrack for the game using the music library of the iPhone or iPod Touch device in which the game is being played on. The game offered two modes of play dubbed "Marathon" mode and "Magic" mode.
Marathon mode played as a more classic version of Tetris, where a point system along with amount of lines cleared were kept as indicators of progress. The level of speed was chosen prior to starting the mode of gameplay. There were 15 levels total, and like Magic mode, this mode ends after all 15 levels have been completed. Unlike the original version of Tetris, Marathon mode ends after clearing 150 lines. Once Marathon mode ends, the Endless feature becomes unlocked.
Magic mode was an enhanced version of gameplay, where there are fifteen levels of difficulty. Each level of difficulty is incremented by speed and amount of lines required to clear the level. Once the amount of lines required to clear the level are met, the next level is presented. Upon failure of a level, the game offers players to retry an unlimited amount of times. The game allows for pausing of gameplay, which is automatic when a player receives a phone call on an iPhone device. Another element of gameplay in Magic mode is the addition of helper objects that are retrieved throughout levels, which allow players to make minor edits to the puzzle. The special objects become available in the first five levels, and then remain generating upon lines completed and tetriminos placed. There are five special objects, ranging from a magic crayon to blocks converting to bubble popping status.
App Store Removal
Edit
On November 30, 2011, the game was removed without prior notice and replaced with a new version, not as an Update but as a paid new version with fewer game modes like the one-touch mode and a subscription model to give discounts for future purchases, completely removing previous game modes like Magic.